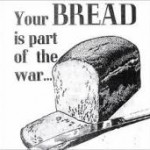 The National Loaf
From: Ministry of Food – Jane Fearnley Whittingstall
Makes two loaves
1 ½ lb wholemeal bread flour*
1 ½ tbsp salt
1 ½ tbsp dried yeast
1 dsp honey or treacle (two teaspoons)
450 ml tepid water (about 2 cups)
1, Mix together all the ingredients and knead for about 10 minutes until you have a soft dough. Place the dough in an oiled bowl, cover with a dish towel, and leave until dough has doubled in size (around 2 hours).
2.  Knock back the dough, give a short knead then cut into two equal pieces. Place in 1.5 litre loaf tins (8 X 4 X 3 loaf pans), allow to rise for a further 2 hours.
3. Pre-heat oven to 200°C (400° F) then bake loaves for 30 min. To test the loaves, turn them out of their tins and give the base a tap; if it sounds hollow,  they are ready. Allow to cool on a wire rack.
*use a food scale for best results