By  the time Christmas, 1940 had arrived, more than 24,000 civilians had been killed in the Blitz and hundreds of thousands of people had become homeless. Before the start of the holiday season, German bombers had obliterated Coventry in November and Nazi raids on Manchester and Liverpool had been made just before Christmas.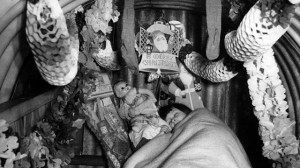 With the sound of an air raid siren, many families went to their Anderson shelters for long periods of time, often spending many nights there as bombs fell on Britain. At Christmas, these air raid shelters and sometimes other places of safety were festooned for the holiday. By 1940, short Christmas trees were in high demand due to the limited height of the air raid shelters.
Even with bombs dropping over many British cities, entertainment was still available: the BBC broadcasting the "Kitchen Front," the King's annual wireless (radio) Christmas message, and upbeat variety shows. A Christmas sermon was broadcast from the ruins of Coventry Cathedral by the BBC, and church services continued (as long as there was no bomb-damage). Church bells were not allowed to be rung, as this signified a Nazi invasion, and due to the black out, Britons could not illuminate their windows.